Original note at here
A Great Start for AFC Cleveland Soccer
PARMA, OH - January 22, 2012 - It has been a whirlwind month for AFC Cleveland, Northeast Ohio's newest professional sports franchise.
The first round of tryouts took place in early January at Brad Friedel's Premier Soccer Academies in Lorain. The turnout was impressive, including dozens of talented players from all walks of collegiate and professional soccer.
Local colleges such as Case Western Reserve, Mount Union, Baldwin-Wallace, Notre Dame, and Hiram were all represented. Players from colleges and universities like Ohio Northern, Ohio Wesleyan, Arkansas, UMass, Bluefield, Brooklyn, Ohio State, and Bowling Green also turned out for a chance to be part of AFC Cleveland's inaugural season. In all, players from 5 countries were part of the tryout process.
Fans, media, and members of the 6th City Syndicate were also in attendance to see the rebirth of soccer in Cleveland. Everyone was impressed with the talent present at the event. Even more is expected from a secound round of open tryouts scheduled for late March in Parma.
January 21st marked the opening of the AFC Cleveland front office and team shop on State Road in Parma. Over 50 people turned out to get official merchandise, buy season tickets, and meet the coaches and staff from AFC Cleveland.
Two great events, supported by some of the best fans anywhere, show an exciting future for AFC Cleveland and soccer in NE Ohio.
For further information, please visit www.afccleveland.com or email AFC Cleveland directly at info@afcleveland.com.
NovaCare Joins AFC Cleveland
PARMA, OH - January 15, 2012 - AFC Cleveland is proud to announce that NovaCare Rehabilitation is the Official Sports Rehabilitation and Athletic Training Provider for the club's 2012 season.
NovaCare is one of the biggest names in sports medicine, servicing teams like the Philadelphia Eagles, Philadelphia Phillies, Philadelphia Flyers, Philadelphia 76ers, Minnesota Vikings, and Temple University. Locally they provide sports rehabilitation and athletic training to the Cleveland Gladiators, Lake Erie Monsters, and the University of Cincinnati.
NovaCare Rehabilitation is part of the Select Medical Outpatient Division, a nationally prominent, locally driven provider of outpatient physical rehabilitation with approximately 952 locations in 34 states and the District of Columbia.
AFC Cleveland is in its first season of play in the National Premier Soccer League (NPSL).
AFC Cleveland Begins with Admiral
PARMA, OH - December 17, 2011 - The NPSL's newest team AFC Cleveland has teamed up with the world's oldest British soccer brand Admiral Sportswear as they begin their journey into the national soccer scene.
Admiral is the Original British Football brand to the top teams in England and North America. In the 1970's and 1980's the Admiral brand was the choice of the England national team and Manchester United. Here in the United States they supplied the Tampa Bay Rowdies, Vancouver Whitecaps, and the legendary New York Cosmos.
Today the brand is worn by the 2011 NASL Champions Minnesota Stars, USL PDL Champions Kitsap Pumas, the Puerto Rico Islanders, and many other USL Pro, USL PDL, MISL, NPSL, and WPSL clubs that have switched to Admiral this season.
"We're delighted to be working with the AFC Cleveland especially as this is their inaugural season," stated Paul Hamburger, CEO of Admiral Soccer. "For us it's like coming home. We supplied the jerseys for the Cleveland Force for three seasons between 1979 & 1981. At the time over 40% of U.S. professional soccer clubs played in Admiral. It's taken 30 years, but we're reunited with soccer in Cleveland."
AFC Cleveland will play in their inaugural season in the NPSL in the spring of 2012. They are led by Head coach Fabio Sartini whose playing career included time at the Tampa Bay Mutiny of Major League Soccer.
AFC Cleveland Chairman Terry Lawriw declared, "I spoke with Admiral and they delivered custom designs within a couple of days. They've made the process easy and really want to help us succeed. The kit is fully customized and uses the latest, lightweight fabric technology which we're sure our players and fans will love. So far we've been delighted by their service and quality." The new kit will be available early in 2012 and online at www.admiralsoccer.com.
AFC Cleveland Joins the NPSL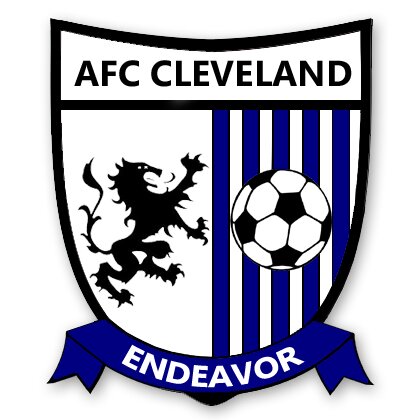 PARMA, OH - November 18, 2011 - AFC Cleveland is proud to announce the return of professional outdoor soccer to the Greater Cleveland area as part of the National Premier Soccer League (NPSL).
AFC Cleveland was recently accepted into the NPSL as part of a revamped Midwestern Division that will include FC Buffalo, Erie Admirals, Detroit City FC, and Binghamton FC.
"We are excited about bringing pro soccer back to Cleveland and we are excited about being part of a great league like the NPSL," AFC Cleveland Chairman Terry Lawriw commented. "Cleveland has a tradition of soccer excellence that dates back to the Stokers, Cobras, Force, and Crunch. We hope that AFC Cleveland can be part of this great history."
The NPSL is a nationwide league that includes teams in major markets from coast to coast, including Hollywood United, Chicago Fire NPSL, New York Red Bulls NPSL, and the San Diego Flash.
Excitement about AFC Cleveland has been strong, even among fellow NPSL teams.
"As a member of the NPSL for the last three years we are very happy that the league continues to develop and strengthen," Erie Admirals owner John Melody said. "We are particularly happy that Cleveland decided to join. We have had a great rivalry with FC Buffalo in recent years and we very much look forward to having a similar one with AFC Cleveland."
"Buffalonians have always felt more of a kinship with the Great Lakes region than the Northeast, so to find traditional sports rivals like Cleveland and Detroit on our schedule is terrific," said FC Buffalo owner Nick Mendola.
AFC Cleveland is led by Lawriw and Head Coach Fabio Sartini, who joined the club in September. The team already has a European-style supporters' group called the 6th City Syndicate.
AFC Cleveland Names a Head Coach
PARMA, OH - September 16, 2011 - AFC Cleveland is pleased to announce the hiring of Fabio Sartini as the team's first head coach.
"I am very excited," the Brazilian native stated. "It's going to be great for the fans to bring high level soccer to the area. Being the first head coach, I am very honored."
Sartini brings a wealth of playing and coaching experience to Cleveland's newest sports franchise.
Sartini's distinguished playing career includes time spent with the University of Tampa and the Tampa Bay Mutiny of Major League Soccer.
Sartini hopes to bring attacking soccer to Northeastern Ohio, one of the top soccer markets in all of North America.